CRM Software - Simple Overview & HubSpot

Katy Keene

Sometimes software platforms and ALL their capabilities can seem overwhelming, and a simple online search can send you down a dark hole of research. Hopefully this simple overview can help give you a general understanding of Customer Relationship Management (CRM), it's evolution and how HubSpot's CRM could be helpful for your business.
CRM History
While earning my Bachelors degree in Business Marketing (a little bit ago 😉) I had the opportunity to select an emphasis and I chose Sales and Customer Relationship Management (CRM). During that time CRM was primarily used, and understood to be, a tool for sales teams for tracking leads, prospects, data and clients while navigating through sales pipelines. I also earned a Bachelors degree in Business Management, understanding the administration, operations and functions of a business. Throughout my career, applying this education and experience, I've seen how important synergy between all of these business functions is for success. This evolution can also be seen in CRM platform development.
Evolution and HubSpot's CRM
As businesses evolve their needs evolve, and as organizations look for ways to streamline their processes and see the benefits of synergistic teams and business functions, these tools have to evolve to support that growth. This is what has developed with HubSpot's CRM platform, to be a foundation supporting more business functions through their suite of services. HubSpot CRM is much more than just a sales tool, it is a business tool.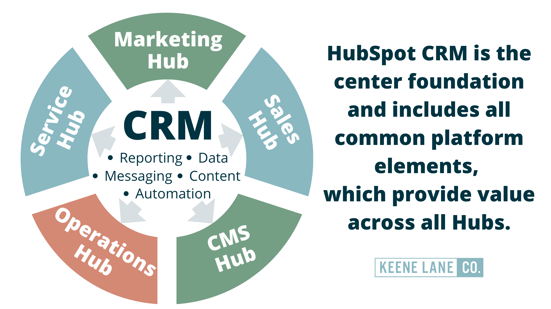 HubSpot is built differently, on one unified foundation platform, beginning with CRM. So when different processes and tools (also known as 'Hubs') of a business are added on the same CRM platform, they support each other, as a foundation to provide a seamless interface in the way they interact, report, share content, collect data, communicate and so much more.
HubSpot tools are built from the same single code base in house and because the foundation is consistent across the Hubs, businesses have a cohesive software with the same user experience, which leads to faster adoption for team members. The HubSpot platform starts with CRM and grows from there.
Just for pun
I may be going out on a 'limb' here, but stay with me 😉 -
Kind of like a tree growing branches to collect more sunlight to help it continue to thrive....as a business grows it too reaches for more tools to effectively support it's continued development.
The tree trunk stays foundational and continues to grow up as the branches grow out. As too does HubSpot, the CRM is the foundation from which the Hubs develop and are available as the business grows.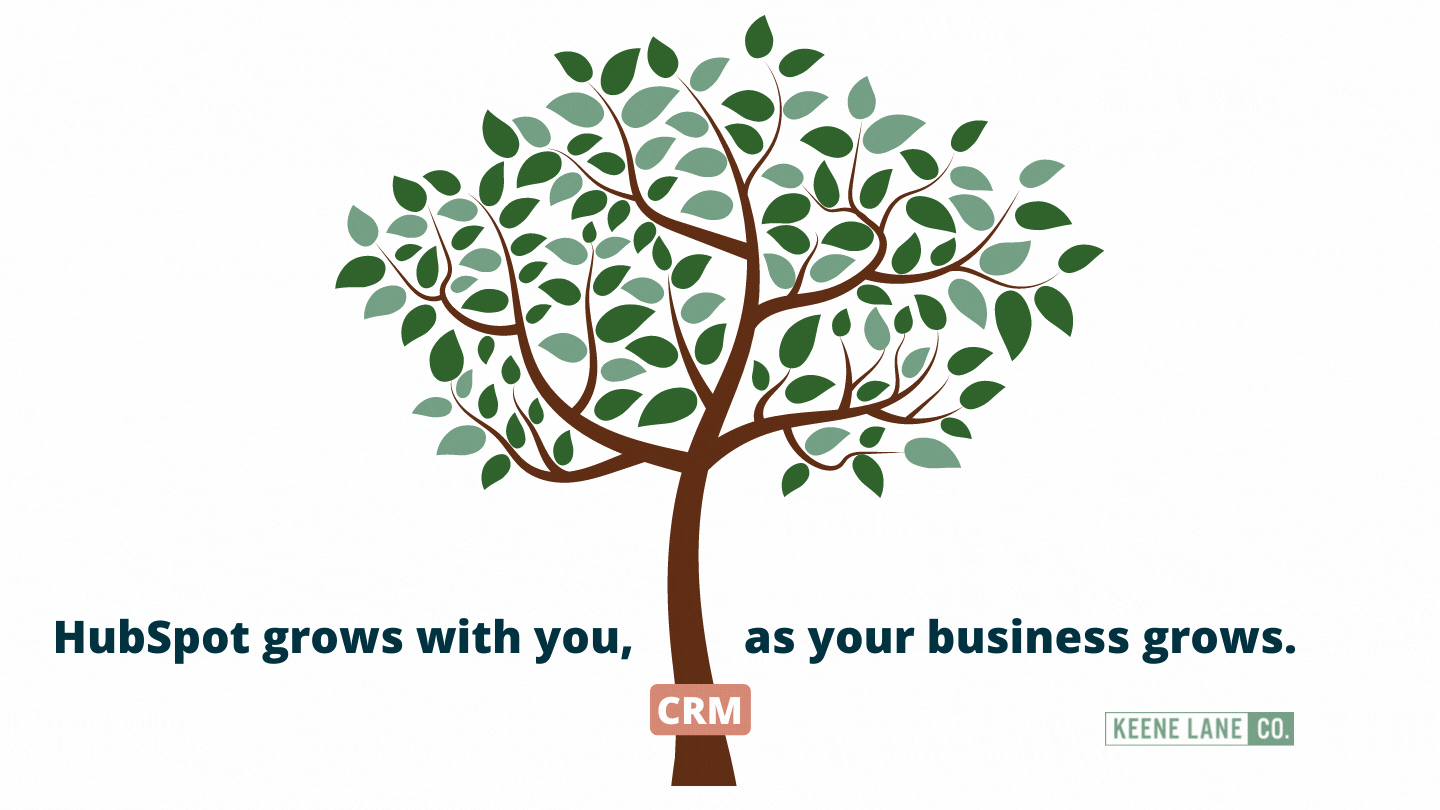 Wrap up
Overall it's important to understand CRM and how your business, teams and customers can benefit, because with growth comes additional necessary support, and having tools and processes in place for this will be inevitable. Checkout these 'Questions when considering CRM software for your business' to keep your wheels spinning on the topic.
Plan ahead and think about how CRM could support your clients and your business with current pain points, anticipate support for your expected growth and how you want a platform to work with your business strategy and future growth. Consider HubSpot, which provides an easy and powerful set of tools that scale with your business and help your teams align and stay in sync. At Keene Lane Co we can help with this, by reviewing your current operations, planning software support and implementing HubSpot for your business.
Want to discuss further? Click here for a free consultation.
Sincerely,
Katy Keene
Learn more about our services.